Like many people I have recently changed my eating habits away from pasta, rice, bread and potatoes, and towards Meat and Fish with vegetables.

Poet is the resident expert on the subject matter, but essentially this is known as a "Paleo" diet, and it seems to work rather well for weight loss. I can't pretend to understand the science. There is a lot of discussion on it over in the Health folder, but that isn't really what this thread is about anyway, which is sharing ideas for meals that are mainly based around protein. I think many people struggle to replace the gap left by potatoes, bread and pasta, so this should be a good place to share ideas for delicious meals that don't need them.

One idea I tried recently, and which I posted in the "Post Pix of your Dinner" thread, is to simply mince your boring old chicken breasts, add some nice flavourings, and form them into burgers. I first did it rather simply with spring onions, salt and pepper, and ate them with some salad: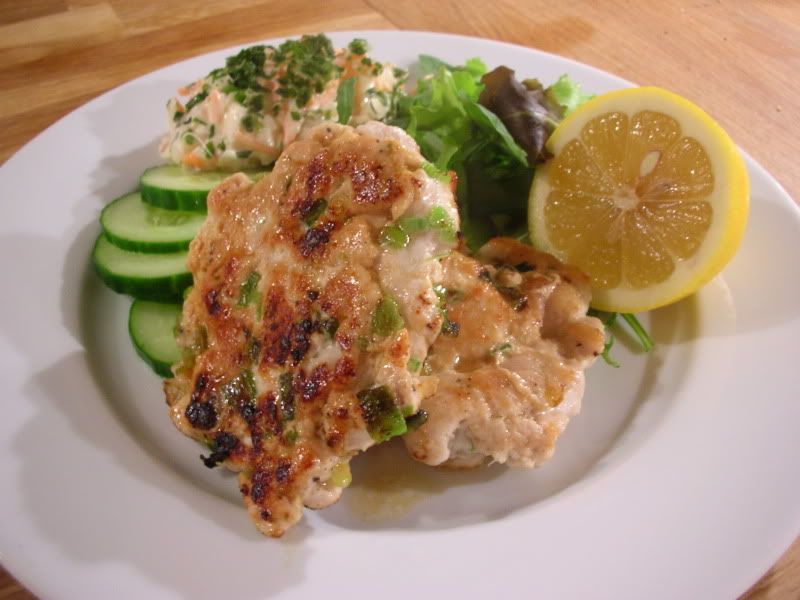 It worked so well that I tried them again at the weekend, this time with red chilli, grated ginger, garlic, lemon zest, and spring onions again. I had a bit of chilli dipping sauce mixed with mayo on the side, some soy sauce, and some salad. Really, really tasty.

A common substitute I have for potatoes is well-cooked broccoli mashed up with a big spoonful of Pesto. I often have that as the "Mash" to go with sausages (ones with as high a percentage of pork as possible, of course). It's not potato mash, but it is quite satisfying.

Hit me with your low carb meal ideas people!